At Loving Homecare Inc., we provide specialized levels of care for dementia patients and persons with Alzheimer's. We provide support for activities of daily living, nutrition and hydration management, medication compliance, and social interaction. Our staff members play an instrumental role in this.
We offer specialized in-home dementia care. Ensuring the safety and happiness of elderly loved ones at home is our primary goal. As they navigate cognitive challenges, we offer unwavering support.
Our expert team gives personalized dementia care services right in your home. They're a great resource for families caring for parent with dementia at home. We assist with daily tasks like meal preparation, medication management, and personal care, making it a comprehensive home care for dementia solution.
Dementia & Alzheimer's Care Assistance: What We Provide
Loving Homecare Inc. provides dementia elderly care, helping seniors live comfortably through each stage. With in home memory care techniques, we ensure the utmost comfort.
Personalized Care Plans: We understand that every individual with dementia or Alzheimer's has unique needs, behaviors, and preferences. As a primary caregiver, we collaborate with our residents and their families. We focus on creating tailored care plans that meet individual needs and objectives.
Medication Management: People with dementia and Alzheimer's often find it difficult to manage their medication because of their varied symptoms. Our nursing team ensures they get their medication as directed in our memory care units. We also closely watch for any side effects.
Assistance with Daily Living: Dementia progression often makes everyday tasks like bathing, dressing, and grooming challenging because of memory loss. In our facility, we help with these activities. We ensure our residents feel comfortable and receive proper care daily.
Nutritious Meals: We understand the importance of proper nutrition for individuals with dementia and Alzheimer's. Our trained chefs prepare nutritious, hygienic, and balanced meals that meet our residents' dietary needs and preferences.
Cognitive Stimulation Activities: We offer a range of activities designed to stimulate our residents' cognitive abilities and promote social engagement. These activities, which address different stages and behaviors of dementia, can help slow its progression and enhance daily living.
24/7 Monitoring: Our skilled staff is always available, day and night, to support and safeguard our residents. Long-term Home health care becomes vital as dementia advances.
If you're deciding on the best care type for a family member, our article on picking the ideal caregiver can help. Additionally, to understand the distinctions between home care and institutional care, please refer to our related post.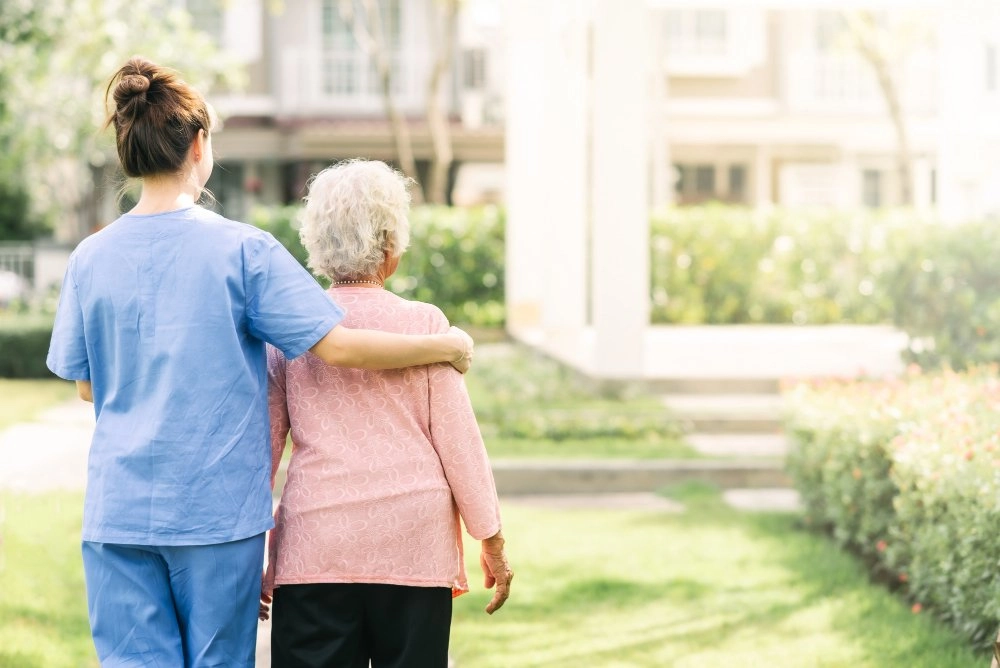 We Understand the Many Faces of Dementia
Dementia impacts our thinking, including memory and problem-solving. It's not just about forgetfulness; it can alter daily life.
However, there are different types of dementia. Here are the most common:
Alzheimer's Disease: This is the most recognized form of dementia and covers almost 70% of dementia cases. It mainly impacts short-term memory and language skills.
Vascular Dementia: This form of dementia results from a series of minor strokes. It can lead to abrupt shifts in abilities and can also alter judgment and behavior.
Lewy Body Dementia: This is the third most common type of dementia. It can cause vision issues and false beliefs. People with this condition may also find it hard to walk or stay balanced.
Frontotemporal Dementia: This dementia type happens because of fewer brain nerve cells. It can lead to sudden behaviors, trouble with language, and a clear lack of interest.
It's essential to understand these differences to offer the right support and care. Remember, every person's experience with dementia is unique, but knowing the basics can help.
Ready to Initiate Dementia & Alzheimer's Care Services?
Are you ready to provide your elderly loved one with compassionate and professional Dementia & Alzheimer's Care Service? Call us today at (562) 448-3854 or Click here to schedule a consultation.
Why Loving Homecare Inc.?


Loving Homecare Inc. is reviewed

5.0

/

5

from

96

verified customer.

Thomas Schuler

It was such a pleasure to work with Loving Homecare for my Dad's recovery after his stroke. We needed overnight care for him and Loving Homecare was able to find us the most gentle and caring caregivers we could have wished for. Tanner and Leslie were also there to answer and help whenever questions arose. I would not hesitate to call Loving Homecare again to help with my parents.

Enid Eck

After several weeks of caring for my husband at home following a severe leg injury that rendered him immobile and unsafe to be left alone for any extended time, I desperately needed help and some respite. I was referred to Loving Homecare, Inc by a very trusted friend who had used them in the past and referred others who were highly satisfied with every aspect of their care and services. Tanner Gish and his team could not have been more responsive and caring.

Fernando Lopez

VETERAN FRIENDLY 🇺🇸 as a Veteran I am skeptical of any business that says they are Military friendly but Loving Homecare lives up to their name.
Years ago I sent a Family Friend, who is a Combat Veteran, to this business. I only heard positive things. Loving Homecare is approved by the VA and I highly encourage any person, Veteran or not, to call and try out their services. Tanner & Orianne are great trustworthy, people.
Have a question?


Getting in touch with us is simple. Call us toll-free at (562) 448-3854 to learn more about in-home care, senior home care, respite care and other services we offer. Whether it's evenings or weekends, connect with us to learn about how having a competent partner can make a difference in daily living..
Request a Call-Back
We're here for you and your family