Bathing Assistance For Elderly: An Integral Part of Health Care
Cleanliness, utilizing medical devices and nursing knowledge, is not merely about hygiene but a vital component of health care. It offers our first defense against bacteria, diseases, and chronic conditions. However, everyday tasks like cleaning and bathing become challenging for seniors due to physical limitations. Our team is dedicated to assisting with these vital needs.
5.0 Yelp Rating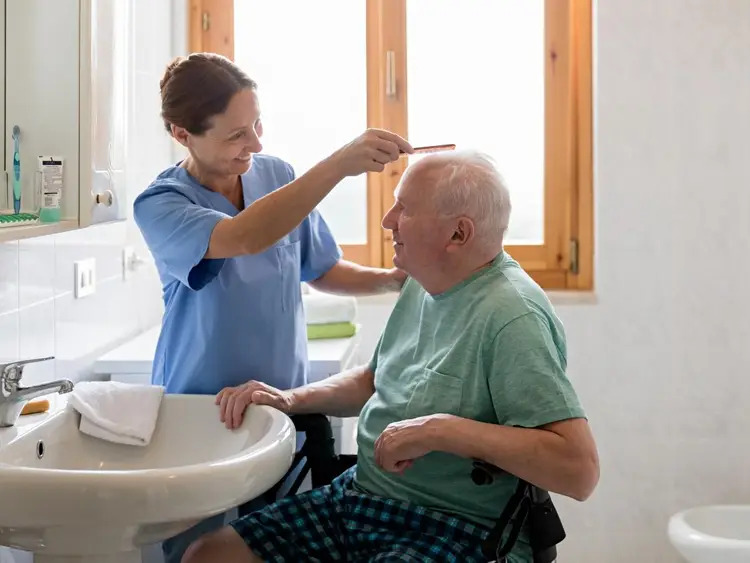 In-home Bathing Services For Seniors: Beyond Just Hygiene
Our caregivers are trained to provide a range of in-home bathing services, ensuring that seniors can meet their hygiene needs with ease, even in the comfort of their room. These services go beyond just bathing—they encompass complete skin care, oral hygiene, and even help with adult diapers. We understand the human nature, that seniors may have about these tasks, so we approach each service with utmost care, curiosity and understanding.
What exactly is Bathing Assistance?
Bathing assistance involves more than just a simple scrub—it's comprehensive support for seniors to maintain their hygiene. From showering, bathing, and grooming to more specific tasks like tooth brushing and applying lotion to combat perspiration, especially in the axilla region. We ensure all aspects of personal hygiene are covered to preserve their dignity and avoid any embarrassment.
What tasks are involved in our Bathing Assistance service?
Our team provides an array of services designed to address every hygiene need of your loved ones. Our services include:
Shower assistance for seniors
Bathtub assistance for seniors
Oral care, including tooth brushing and denture care
Assistance with getting dressed
Support with adult diapers
Grooming assistance, including skin care and lotion application
Bathroom supports for the elderly
Nutrition advice, as diet impacts skin health and digestion
This comprehensive approach guarantees that the personal hygiene needs of your loved ones are taken care of in a comfortable, caring environment.
Ready to Initiate Bathing Assistance Services?
Are you ready to provide your elderly loved one with compassionate and professional Bathing Assistance Service? Call us today at (562) 448-3854 or Click here to schedule a consultation.
Our Service Offering: Essential Bathing Assistance for Seniors
We understand that older adults' hygiene needs are crucial, yet often overlooked. Although they might not be as active as their younger counterparts, maintaining personal hygiene should not be ignored. Hygiene care for seniors extends beyond physical health to mental health, identifying and managing any mental disorders, boosting self-esteem and emotional stability at this delicate age of ageing. Our bathing assistance, therefore, functions as a dual service, caring for their physical and mental health.
Questions You May Have:
How frequently should a senior person bathe?
Optimal hygiene, especially for those with chronic conditions or cognitive deficits, involves bathing at least twice a week, although daily bathing is recommended if possible. This regimen not only keeps their skin healthy but also fosters a sense of self-care and independence.
Why might seniors resist bathing?
Seniors may feel discomfort or hypersensitivity about needing help, fear of falling, confusion due to dementia or another mental disorder, or embarrassment about exposure. They may also struggle with a declining sense of smell or other aspects of suffering associated with ageing.
At what stage of dementia might seniors stop bathing?
Typically, seniors may cease bathing during stages 5 and 6 of dementia, often forgetting the purpose of bathing, or developing a sensitivity to the feel of water on their skin, a sequela of the disease.
How do you bathe someone who is unable to walk?
For immobile individuals, a bed bath or sponge bath can be a practical solution. Our team can assist with these techniques, ensuring safety, comfort, and proper skin care, while also being cognizant of rectum health.
How do we give a sponge bath to an elderly person?
Our sponge bath process includes:
Laying the person on a bed with towels beneath them
Filling a basin with warm water
Preparing a sponge and necessary supplies, including topical medication if required
Covering the individual with a towel and carefully removing clothing from underneath
Gently washing the body with soap and warm water
Washing hair by tilting the head towards the basin
Extra care is taken to clean thoroughly, ensuring we don't overlook body folds and private areas.
From pharmacy coordination for medication, considering immunology, to dealing with the intricacies of elderly care, such as rectal health and digestion, our bathing assistance services are comprehensive and designed with your loved one's comfort in mind. We provide surveillance to monitor any changes in health conditions, offering information and assistance as necessary to facilitate a healthy everyday life for the elderly.
Why Loving Homecare Inc.?


Loving Homecare Inc. is reviewed

5.0

/

5

from

96

verified customer.

Thomas Schuler

It was such a pleasure to work with Loving Homecare for my Dad's recovery after his stroke. We needed overnight care for him and Loving Homecare was able to find us the most gentle and caring caregivers we could have wished for. Tanner and Leslie were also there to answer and help whenever questions arose. I would not hesitate to call Loving Homecare again to help with my parents.

Enid Eck

After several weeks of caring for my husband at home following a severe leg injury that rendered him immobile and unsafe to be left alone for any extended time, I desperately needed help and some respite. I was referred to Loving Homecare, Inc by a very trusted friend who had used them in the past and referred others who were highly satisfied with every aspect of their care and services. Tanner Gish and his team could not have been more responsive and caring.

Fernando Lopez

VETERAN FRIENDLY 🇺🇸 as a Veteran I am skeptical of any business that says they are Military friendly but Loving Homecare lives up to their name.
Years ago I sent a Family Friend, who is a Combat Veteran, to this business. I only heard positive things. Loving Homecare is approved by the VA and I highly encourage any person, Veteran or not, to call and try out their services. Tanner & Orianne are great trustworthy, people.
Have a question?


Getting in touch with us is simple. Call us toll-free at (562) 448-3854 to learn more about in-home care, senior home care, respite care and other services we offer. Whether it's evenings or weekends, connect with us to learn about how having a competent partner can make a difference in daily living..
Request a Call-Back
We're here for you and your family