No-Cost, Freshly Prepared and Delivered Meals: Kevin Dobson Memorial Food Program for Veterans, Seniors, Disabled & Those in Need
The past 12-months have left many in different places than they were prior to the COVID-19 pandemic.
While those over 65 are well on their way to getting vaccinated, social isolation has placed many high-risk individuals out of the public sphere. This leaves many without access to loved ones, volunteers, service providers, and risk-free access to activities such as grocery shopping necessary for their thriving.
This is why Loving Homecare is excited to announce that, as a member of the Foundation for Senior Services, our partnership with the Kevin Dobson Memorial Food Program (a service of the Jewish War Veterans of the USA).
This program brings 21 freshly prepared (never frozen) kosher and halal meals delivered in 3 batches throughout the week to one's doorstep, at no cost. The rotating 14-day menu is designed under the supervision of professional chefs and modified based upon the needs and feedback of its recipients.
Kevin Dobson Memorial Food Program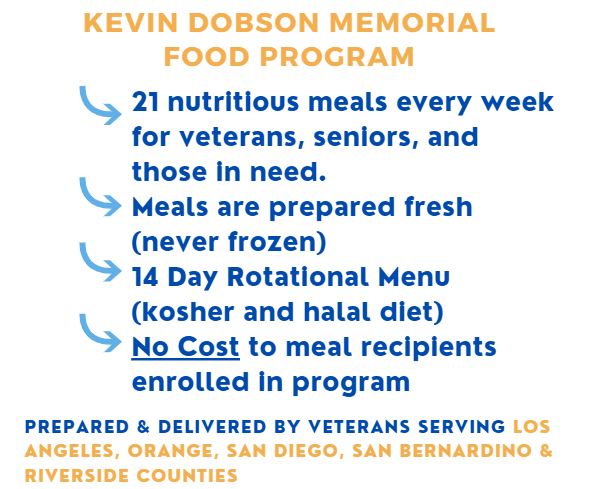 Now a 2021 Meals on Wheels America Member, the program began in March of 2020 to meet the needs of thousands with reduced accessibility to food. While DoorDash and other delivery options have been heralded as heroes of the pandemic, not every home-delivered restaurant option is affordable or appropriately nutritious, especially for those with at-risk health conditions. Using military expertise to organize and execute, the Jewish War Veterans and the Jewish Community Services of Orange County began providing 10 meals a week to veterans in Orange County.
After the passing of the post's good friend and supporter, Actor Kevin Dobson on September 6th, the program was renamed in his honor. Since, service has expanded from only veterans to anyone in need of access to healthy, home-delivered meals. Starting with 10 meals per week, the program now provides 21 meals and has added Los Angeles, San Bernardino, Riverside, and San Diego counties.
The program, supported by private donors, doesn't just support the food recipients. Veterans without work are hired to ensure dependable delivery of the meals throughout the 5-county footprint. And, come later in 2021, the program will open a commercial kitchen in a large facility at the entrance to Wood Canyon Park in Aliso Viejo, CA, which will become a culinary art vocational training school for veterans, allowing those who have served us to gain skills to support themselves, as they prepared food the brings life to those in need.
Hesitant to give it a try? Don't be! Click below, to be taken to a registration form. All you need to enroll is:
Your Full Name
Your Address of Delivery
Date of Birth
Email and Phone Number
Self-Identifying if you are a:

Veteran
Senior
Another Category of Need
An Opportunity for Orange County and Los Angeles Veterans Receiving Home Care

It's clear that this is a significant opportunity for Veterans in the Los Angeles and Orange County footprint to maintain their nutrition. Meals design is overseen by a professional chef, designing meals to meet both cultural and common health condition diet needs.
Among seniors, veterans face unique or additional challenges when it comes to providing for their own needs as they age.  Many have various degrees of disability resulting from service (from hearing loss to paralysis or even amputation) which only increase in severity with age. The activities that many younger people take for granted (transportation, ambulation, etc) are often less accessible for those who have served our country. Factor in how COVID induced long wait times outside of grocery stores, and the closures of other local food supply sources, and getting nutrition isn't always an easy task. These realities are what the Kevin Dobson Memorial Food Program was established to solve.
Even though multiple commercial kitchens and networks of deliverers are operating in sync, the program is intentional about soliciting and acting on recipient feedback. For example, in the early months, the program received feedback from several recipients that they wanted simple carbohydrates to be reduced in the meals for a more diabetic-friendly diet. This feedback was immediately implemented, replacing several pasta dishes with grains and vegetables in the rotating menu.
Nutrition and Care for Veterans in Whittier, La Mirada, Cerritos, Norwalk, Downy, and the Gateway Cities Area
Loving Homecare is the local representative of the Foundation for Senior Services, a non-profit devoted to serving and advancing the needs of seniors in our respective communities. Loving Homecare is proud to partner with each of these organizations to bring access to health and nutrition in the gateway cities and North Orange County neighborhoods we serve.
Please, share this page and information with any friend, family member, or colleague who you know would benefit from this program!